Deletion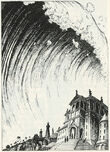 Deletion has been suggested for this page according to the
deletion policy
. In the normal day-to-day operations of Titannica, some pages are deleted for various reasons. This deletion suggestion and reasoning can be discussed on:
The Age of Wrath is the age that began with the Splitting of Irritaria, when the gods seemed to be punishing the peoples of Titan.
The name is a non-canon term that is used to describe that portion of[Titan's timeline that occurred between the Time of Heroes and the Splitting of Irritaria. The basis for its use is purely extrapolation from the book Titan - The Fighting Fantasy World description of what happened in that period.[1]
For many decades after the initial disruption, seismic activity was profound as Titan seemed to shake with the rage of the Celestial Court. In this time the races once again had to re-establish themselves, although the Elves never really established themselves as the same power they once were. Men began to settle further on into this Age until eventually the great states emerged and ushered in the Age of Empire.
Canon vs. Non-canon
Edit
The name is non-canonical but the events are based on information within the book Titan - The Fighting Fantasy World.
Titan's Timeline
References
Edit
↑ The book, Titan - The Fighting Fantasy World, established a timeline that itself was made up of what can be described as epochs, such as Old Time and After Chaos. The book subdivided these epochs into ages, but the ages that were defined left temporal gaps in the epochs that had no definition. In order to establish a continuum of ages, three ages have been titled by the Titannica. The time periods in question happened, and the events within them are based on canon. It is simply the name of the period that has no absolute source in established canon.