Ashkyos is a city on the Ashen River in north central Khul and a haven for many peoples and races.[1] The city is currently ruled by the dictator Marshal Lakatos.[2] Ashkyos is one of the cities located on the Great Northern Trade Route. [3]
Ashkyos is a violent and almost lawless city, similar to Kharé or Port Blacksand.[4]
Geography
[
]
It is divided into a number of districts:
the shops;
the warehouses;
entertainers square;
the markets;
the docks; and
the Old Quarter.
Population
[
]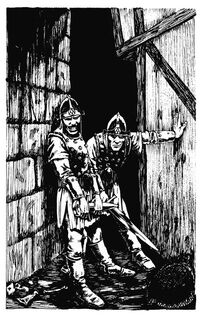 Ashkyos' inhabitants are mainly Human. There are some Elves, Dwarfs, Lizard Men and Gnomes working as merchants in Ashkyos. There is also a large population of Half-Ogres, who work as gladiators, mercenaries and torturers.[4] Man-Orcs are found in the Old Quarter of the city.[5]
The Old Quarter
[
]
This is distinguished by its rowdy drinking dens, gambling houses and even more dubious establishments lining filthy thoroughfares. It is frequented by drunks and wide-eyed smokers of suspicious-looking water-pipes.
The Markets District
[
]
In the Markets District the merchants buy and sell all kinds of wares; everything from food and fabrics to Basilisk-skin cloaks, kegs of Guursh, and magical pots and pans that clean themselves.
The merchants are varied in the origins. Humans, Dwarfs, Elves, the odd furtive Gnome, Man-Orc and even a Lizard Man peddling patent medicines and necklaces of Shark's teeth for charms, can be found there.
Crime
[
]
The city is a hive of crime with many a footpad roaming its streets and the infamous Ashkyos Guard is no comfort being a particularly corrupt and unforgiving institution having among its captains Man-Orcs.
Sport
[
]
In Ashkyos sport is an important part of life with the Gladiatorial Park dominating Entertainers Square, a throwback to Kabeshian influence perhaps.
See Also
[
]
References
[
]