Deletion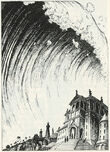 Deletion has been suggested for this page according to the
deletion policy
. In the normal day-to-day operations of Titannica, some pages are deleted for various reasons. This deletion suggestion and reasoning can be discussed on:
The Battle of Castle Hill or the Battle of Founding is the name by which people know the great battle which took place where Neuberg stands today on Castle Hill.
It was at this Battle that the mighty Skarlos, leader of the northern tribes of Loth, faced down the forces of Xakhaz and defeated them over three hundred years ago. The battle was fought before the Keep at Neuberg was built and therefore before there even was a Neuberg. The Southerners were defeated and fled. Legends say that their unnatural allies were swallowed up by the ground on which they stood as did the spear shaft of the Trident of Skarlos. It was at this Battle that Vlax the Slayer was killed by Skarlos himself. Three residents of Neuberg are still alive who remember that Battle, Huw, the Priest of Oiden, Vernic the Green-Fingered Dwarf and the reclusive Goblin merchant.
References
Edit
Community content is available under
CC-BY-SA
unless otherwise noted.