Beneath Nightmare Castle is a single-player role-playing gamebook written by Peter Darvill-Evans, illustrated by Dave Carson and originally published in 1987 by Puffin Books. It forms part of Steve Jackson and Ian Livingstone's Fighting Fantasy series. It is the 25th in the series in the original Puffin series (ISBN 0-14-032238-8). There are currently no announced plans to republish this book as part of the Wizard series.
Background
Edit
"
Creatures from your worst nightmares lie beneath Neuberg Keep!

In this book, you find yourself in Neuburg, once a pleasant town in Khul, but now home to the vile monsters begotten of warped sorcery. An age-old horror has been re-awoken deep beneath the Keep, and it is up to you to face it and free the town and your friend, Baron Tholdur, from evil enchantment. But beware! Deep underground lie hideous traps and terrors, waiting to ensnare you! Will you succeed? Only if you are the resourceful hero you claim to be ...

Two dice, a pencil and an eraser are all you need for this adventure. YOU decide which routes to follow, which dangers to risk and which monsters to fight.[1]
"
The book features a blend of the fantasy and horror genres. It also features some particularly disturbing failure references and illustrations.
Your Character/Combat/Hints on Play
Edit
The book in general follows the original rules set down in The Warlock of Firetop Mountain (see Game System).
Unique Rules
Edit
In addition to the standard rules, the story includes a

willpower

score (1d6 plus 6). Like

luck

, this attribute is tested throughout the book, with a note should the player's

willpower

score fall below 6. At this point should they be unsuccessful when instructed to Test your willpower they lose their grip on their sanity and lose the game.[2]
The player also begins the adventure with no Provisions.[3]
Equipment List
Edit
Cover and Illustrations
Edit
Main article: Beneath Nightmare Castle (illustrations)
Covers
The original cover of the book was designed and illustrated by Terry Oakes.
This was the first book to feature the Dragon Cover Format layout.
NOTES
Price of 1st~2nd Impressions; £2.25 for 3rd~4th Impressions
Illustrations
The interior illustrations were by Dave Carson. There were 28 full page illustrations and 9 minor repeated illustrations scattered throughout the text. The paragraphs with a full page illustration were: 5, 14, 21, 38, 46, 76, 87, 96, 115, 127, 157, 165, 183, 190, 195, 226, 235, 257, 267, 272, 287, 309, 311, 319, 335, 358, 366 and 389. Additionally a smaller illustration, a map of Neuburg, accompanies paragraph 137.
Unused Artwork
There was to have been an illustration to accompany paragraph 50 and the description:
| | | |
| --- | --- | --- |
| " | The young man stands over you, mumbling and hopping from foot to foot, while you release the woman. She, too, has a swollen face, but she manages to smile at you. The man looks worried and tries to hold her, but she pushes him aside and advances to wards you. The young man cowers in a corner and you back away nervously as the woman's smile becomes a grin, and then a yawn, and then her mouth opens wider still — and not one but a hundred writhing tongues spill from between her impossibly wide jaws.[5] | " |
Advancedfightingfantasy.com reported that during a conversation with Dave Carson:
| | | |
| --- | --- | --- |
| " | he revealed that his favourite FF illustration was sadly banned from his only FF book Beneath Nightmare Castle. With great delight I am proud to present this exclusive picture featuring a woman with tentacles coming out of her mouth.[6] | " |
As stated, the image was banned and it is supposed that this may have been because the imagery would have scared younger readers to a level deemed unacceptable. Nevertheless, the image can now be found below by pressing the "Show" button. Be warned, it has been described as "really rather gross. And quite disturbing".[7]
Unused artwork by Dave Carson - WARNING!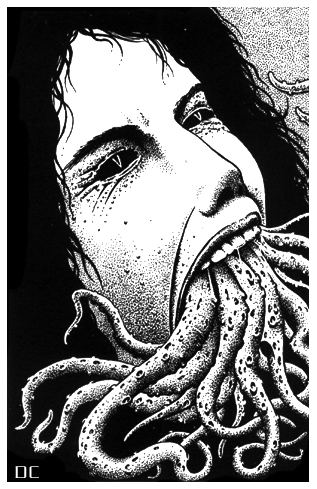 Intertextual References
Edit
Other Media
Edit
Main Characters
Edit
YOU: Hero of Beneath Nightmare Castle
Locations
Edit
Encounters
Edit
Further Notes
Edit
Interestingly, the first edition has a picture of the cover of Crypt of the Sorcerer on the inside cover, two months before the book was due to be published.
In this book it is possible to find a rare Brain Defiler.
During this adventure it is possible to find the fabled Trident of Skarlos.
Dedication
Edit
For Cherril
External Links
Edit
References
Edit
Community content is available under
CC-BY-SA
unless otherwise noted.