Deletion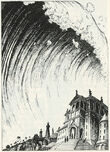 Deletion has been suggested for this page according to the
deletion policy
. In the normal day-to-day operations of Titannica, some pages are deleted for various reasons. This deletion suggestion and reasoning can be discussed on:
| | |
| --- | --- |
| Spoiler Warning!!!: Plot and/or ending details of a Fighting Fantasy publication follow. Please DO NOT read this article if you do not want foreknowledge of this publication. Although the article below is based on canon, some of its content is considered extrapolation because it assumes a certain course of events through an adventure that has many possible routes. Finally, the use of "Hero" and other male- gender expressions pertaining to the subject in the article and/or title of the article is not intended to exclude the possibility that the hero was female. | |
The Chosen of Lhyss is a title attributed to a hero who travelled to Stayng Island, possibly in 283AC, to fight Mortis.[1] It was on this journey that hero became favoured by Lhyss, goddess of luck and Fate.[2]
References
Edit
↑ The Keep of the Lich-Lord - 316