For other uses of Deathmoor, please see Deathmoor
Deathmoor is a single-player role-playing gamebook written by Robin Waterfield, illustrated by Russ Nicholson and originally published in 1994 by Puffin Books. It forms part of Steve Jackson and Ian Livingstone's Fighting Fantasy series. It is the 55th in the series in the original Puffin series (ISBN 0-14-036496-X). There are currently no announced plans to republish this book as part of the Scholastic series.
Background
Edit
"
Adventurer Needed - Urgently!

An experienced adventurer is desperately needed in the distant city of Arion for a mission of deadly importance - an adventurer like YOU. Telessa, the beautiful Princess Royal, is missing, believed kidnapped. She must be rescued, and she must be rescued fast.

Unfortunately King Jonthane has already given the quest to your deadly rival Fang-zen of Jitar! Can you prove that you are the one to find the princess, wherever she may be held, before she can be harmed? Hurry, for time is running out!

FIGHTING FANTASY — THE WORLD'S MOST POPULAR ADVENTURE GAMEBOOK SERIES
"

—Deathmoor - Back Cover ("Dragon" Edition)
In this book the player must search for the missing Princess Royal Telessa of Arion in the titular Deathmoor on Khul. The princess has become the victim of Arachnos the "Life-Stealer", an unaging servant of Chaos, and the player must find the way to his hideout and fight his way past various traps, including Arachnos' Half-Giant henchmen Otus, Oman and Ophis.
Introduction
Edit
The book in general follows the original rules set down in The Warlock of Firetop Mountain (see Game System).
Cover and Illustrations
Edit
Main article: Deathmoor (illustrations)
The original cover of the book was designed and illustrated by Terry Oakes.
Deathmoor Cover Variants
1994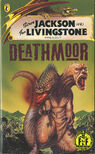 Dragon ver.IV
£3.991
---
NOTES
Price of 1st Impression
Illustrations
Edit
The interior illustrations were by Russ Nicholson. There were 30 full page illustrations and 6 minor repeated illustrations scattered throughout the text. The paragraphs with a full page illustration were: 1, 14, 28, 42, 55, 69, 83, 97, 111, 125, 139, 153, 167, 181, 195, 206, 220, 233, 247, 261, 275, 289, 303, 321, 335, 347, 361, 376, 388 and 399.
Intertextual References
Edit
Other Media
Edit
Main Characters
Edit
Locations
Edit
Encounters
Edit
Further Notes
Edit
Dedication
Edit
For Kathy, for fun[5]
External Links
Edit
References
Edit
Community content is available under
CC-BY-SA
unless otherwise noted.