We're Getting Mutants in the MCU - The Loop
Play Sound
Decay
is a
High Lord of Chaos
, the God and Incarnation of Decay.
[2]
[3]
Decay fought against the forces of
Good
during the
First Battle
; after the forces of Good were victorious, Decay was imprisoned in
the Void
with the other
Dark Lords
. However, Decay still has followers on the
Earthly Plane
, whom he assists in spreading suffering through the world.
[4]
Relationships
[
]
He is the brother of Death and the twin of Disease.[3] It is believed that he is the creation of Elim.
Worship
[
]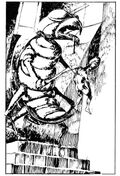 Decay is the patron of mould, and all that rots and perishes.[3] He is also known as "The Scavenger" and Urgulla. Decay's followers are known as the Acolytes of Decay.[5] His most notable centre of worship is in the southern part of Khul, in the city of Shakuru by the beggars and lepers of that foul place. There is also a temple to him near the city of Assur on the Inland Sea. [5] Many of the Khulian cults of Decay are composed of humans, led by a high priest of the Awkmute species. [6] The Gnoll race is also known to invocate Decay before a battle.[7] Priests of Decay have been gifted by their deity with the power to destroy wooden or metal items through magical corrosion.[3]
Portrayal
[
]
Commonly Decay appears as a rotting skeleton and he is associated with insects. His symbol is a skeletal hand or a Fly, and his sacred colour is Bone White.[3] Adventuring priests of Decay may be encountered throughout Titan.
References
[
]