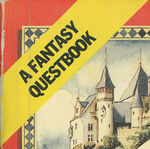 Fantasy Questbooks were a series of books published by Puffin Books. There were five in total; one is part of the Fighting Fantasy canon, whilst the others are not. A sixth book, Casket of Souls, is often mentioned along with the Fantasy Questbook series. However, although a hardback PuzzleQuest Book, like The Tasks of Tantalon, the softback version was published by Penguin Books rather than Puffin Books, and was not part of the Fantasy Questbook series.
The Series
Edit
This was made up of the following five books:
Associated Books
Edit
Casket of Souls was initially published by Oxford University Press in hardback in 1987 as a PuzzleQuest Book and was also part of Fighting Fantasy canon. It was subsequently published in softback by Penguin Books rather than Puffin Books.
Fighting Fantasy LinksEdit
For Fighting Fantasy, The Tasks of Tantalon is set in the same world as Sorcery!. Although the other four Fantasy Questbooks were unrelated to Fighting Fantasy, one of them, Helmquest, did contain one of the five Fighting Fantasy Bookmarks.
Casket of Souls is set in the world of Amarillia and is also canon.
References
Edit