For other uses of Knights of Doom, see Knights of Doom
Knights of Doom is a single-player role-playing gamebook written by Jonathan Green, illustrated by Tony Hough and originally published in 1994 by Puffin Books. It forms part of Steve Jackson and Ian Livingstone's Fighting Fantasy series. It is the 56th in the series in the original Puffin series (ISBN 0-14-036978-3). There are currently no announced plans to republish this book as part of the Scholastic series.
Background
Edit
"
Break loose the Knights of Doom

For years the brave Knights Templar of the Demonkeep have kept the peace in Ruddlestone. But now an ancient evil has reawakened in the land: the sorcerer Belgaroth has returned from the dead and will use his powers to bring chaos and terror to this peaceful kingdom.

To ensure his plans succeed, the evil sorcerer has enlisted the services of the Knights of Doom. One heroic knight - YOU! - must creep through a land plunged into war, penetrate the enemy lines and overcome the deadliest foe of them all!

FIGHTING FANTASY — THE WORLD'S MOST POPULAR ADVENTURE GAMEBOOK SERIES
"

—Knights of Doom - Back Cover ("Dragon" Edition)

In this book the player takes the roll of a Knight of the Order of the warrior god Telak. The player must destroy the undead knight Belgaroth. This adventure is set in and around the Forest of Lein in Ruddlestone in the Old World.[1] The adventure takes place in the 280s AC, perhaps even in 285AC - we know this since the first crusade against Chaos is dated 185AC,[2] and this is described as "One hundred years ago" at the time of the events described in Knights of Doom.[3]
Introduction
Edit
The book in general follows the original rules set down in The Warlock of Firetop Mountain (see Game System).
Unique Rules
Edit
Cover and Illustrations
Edit
Main article: Knights of Doom (illustrations)
The original cover of the book was designed and illustrated by Tony Hough.
Knights of Doom Cover Variants
1994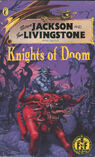 Dragon ver.IV
£3.991
---
NOTES
Price of 1st Impression
Illustrations
Edit
The interior illustrations were by Tony Hough. There were 30 full page illustrations and 6 minor repeated illustrations scattered throughout the text. The paragraphs with a full page illustration were: 1, 14, 27, 40, 53, 66, 80, 97, 110, 123, 136, 149, 162, 175, 188, 201, 214, 227, 242, 256, 270, 283, 296, 310, 324, 338, 352, 368, 382 and 396.
The black and white interior map was by Jonathan Green.
Intertextual References
Edit
Other Media
Edit
Main Characters
Edit
Locations
Edit
Encounters
Edit
Further Notes
Edit
Dedication
Edit
For the spellbreakers[10]
External Links
Edit
References
Edit
Community content is available under
CC-BY-SA
unless otherwise noted.