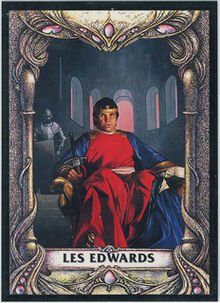 Les Edwards is an artist and illustrator whose work has appeared in a number of Fighting Fantasy related publications including eleven Fighting Fantasy gamebooks, Warlock and other related publications. He is best known for his horror, science fiction and fantasy illustrations. In addition to his own name, he works under the pseudonym Edward Miller.
Biography
[
]
Early Life
[
]
Career
[
]
He trained at Hornsey School of Art and was represented by Young Artists Agency London.
Bibliogrpahy
[
]
Cover Illustrator
Fighting Fantasy Gamebooks

[

]
(#9) Caverns of the Snow Witch (Puffin, 1984)
(#19) Demons of the Deep (Puffin, 1986)
(#26) Crypt of the Sorcerer (Puffin, 1987)
(#30) Chasms of Malice (Puffin, 1987)
(#35) Daggers of Darkness (Puffin, 1988)
(#38) Vault of the Vampire (Puffin, 1989)
(#41) Master of Chaos (Puffin, 1990)
(#49) Siege of Sardath (Puffin, 1992)
(#50) Return to Firetop Mountain (Puffin, 1992)
(#58) Revenge of the Vampire (Puffin, 1995)
(#4) Creature of Havoc (Wizard, 2002)
(#6) Crypt of the Sorcerer (Wizard, 2002)
(#10) Caverns of the Snow Witch (Wizard, 2003)
Warlock Magazine

[

]
Interior Illustrator
Other Fighting Fantasy

[

]
BattleCards
[
]
Edwards was also responsible for the artwork on a number of Steve Jackson's BattleCards:
BattleCard Notes
[
]
Wolfman specified that the artist was Unknown. This was to facilitate a quest (Lord Magnoble's Quest), where the player had to find the five cards whose artist was identified by a question mark ("?"), rather than by name, and having found these cards, identify who the artist was. In the case of this card, it was Les Edwards.
Outside of Fighting Fantasy

[

]
He is now represented by Val Edwards. He has work includes major advertising campaigns, publishing, comics and film design, but he is best know for his genre illustrations. He has illustrated two graphic novels, Rawhead Rex and Son of Celluloid, based on short stories from Clive Barker's Books of Blood.
He has has won the British Fantasy Award for Best Artist seven times, and has been nominated three times for a World Fantasy Award.
See Also
[
]
External Links
[
]
References
[
]