For other uses of The Forest of Doom, see The Forest of Doom
The Forest of Doom was converted into a computer game by Puffin Books. Unlike The Warlock of Firetop Mountain before it, this game was deemed an "adventure" style game as opposed to an "arcade" style game.
This game was advertised along with the conversion of the The Citadel of Chaos at the end of 1984. In the November 1984 issue of Computer and Video Games magazine it was shown as being available for "Just £7.25 including bestselling book". Like The Warlock of Firetop Mountain before it, it had two styles of release, one with just the game, the other within a Software Pack which included both the "thrilling adventure game" as well as the "original bestselling book". It was to be available for both the Commodore 64 and ZX Spectrum platforms.
It is interesting to note that in the extensive "The Fighting Fantasy Collection" section of the 25th Anniversary Edition of The Warlock of Firetop Mountain this game is referred to in the following manner:
"

Forest of Doom - ZX Spectrum 48k, Commodore 64 (Puffin, 1984)
Forest of Doom pack - includes ZX Spectrum 48k game plus book (Puffin, 1984)

"

The implication is therefore that the Software Pack existed only for the Spectrum. However, the advert in Computer and Video Games suggests otherwise and the specialist Commodore 64 site, www.lemon64.com, has images of the Software Pack for The Forest of Doom for the Commodore 64.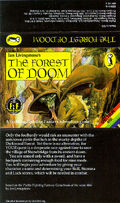 The cover art used for the game was the same as used for the book and was therefore by Iain McCaig. One of the most notable features of the cover, be it Commodore, Spectrum, game only, or Software Pack, was that it sported what was at the time the new Fighting Fantasy Logo. The version of the logo was black with white outline, and yellow writing. This was peculiar to what was marketed as "The Puffin Personal Computer Collection". It appeared on The Citadel of Chaos as well. However, it had not appeared on The Warlock of Firetop Mountain because the release of that game pre-dated the logo. Neither did it appear on later software releases, because Puffin did not publish any more conversions after The Citadel of Chaos and The Forest of Doom, instead licensing out to others such as AdventureSoft.
All Variations Within Platforms
[
edit
|
edit source
]
ZX Spectrum 48k
Commodore 64
"Software Pack" - ZX Spectrum 48k
"Software Pack" - Commodore 64
Community content is available under
CC-BY-SA
unless otherwise noted.