Unpublished Fighting Fantasy Gamebooks refers to gamebooks that for whatever reason were eventually left to go unpublished by either Puffin, Penguin, or Wizard and is divided into the years that each title was probably submitted for consideration.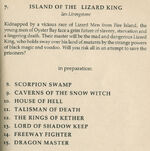 In the back of the first edition of Sorcery! Book 3 (The Seven Serpents) there was an advert for forthcoming Fighting Fantasy gamebooks. Two of the listed titles aren't to be seen on any list of Fighting Fantasy gamebooks, although the first (by Oliver Johnson) was published as part of a different range of gamebooks and the second is believed to be a working title for a published Fighting Fantasy gamebook by Ian Livingstone.
The following title from Dave Morris and Jamie Thomson was rejected for publication in the range:
Apparently the following titles from Dave Morris and Jamie Thomson were under consideration for publication in the range, Puffin ultimately choosing The Keep of the Lich-Lord instead:
Jonathan Green's first submission to Fighting Fantasy was rejected, but parts of it were recycled in Spellbreaker and Howl of the Werewolf.[5]
1995: The End of the Line
Edit
For more information on the end of the series, see Cancellation of Puffin Range
A number of unpublished Fighting Fantasy gamebooks are believed to have been in the planning stages when the original series by Puffin came to an end in 1996.
Letter to AMYLASE
Edit
Jonathan Green's letter to the AMYLASE website indicates the following order for upcoming titles (which was subsequently swapped):
Advancedfightingfantasy.com List
Edit
The website Advancedfightingfantasy.com presented a longer list of unpublished titles with a different order. How accurately this list reflects what Puffin was considering for publication at the time remains unknown.
Additional Potential Titles
Edit
Other titles floating around at the time included:
Three Green Adventures
Edit
Main article: Bloodbones (book)
Main article: Howl of the Werewolf (book)
Main article: Stormslayer (book)
It may seem strange to include these three Jonathan Green titles here because they are now published Fighting Fantasy adventures. However, they were originally "unpublished" due to the range coming to an end. Like the above titles they were under consideration for publication with Bloodbones for a long time being considered to be the long-lost Fighting Fantasy book due to a variety of rumours about it.[6]
External Links
Edit
References
Edit